GW Dining is excited to announce the grand opening of "The Bistro" on February 13! The Bistro is located on the first floor of Ross Hall.
The Bistro's hours are:
7:30 AM to 4:30 PM
Monday through Friday
This new dining location features crafted coffees, kombucha, specialty hot and cold breakfast items, bakery favorites, grab & go lunch selections, desserts, and more.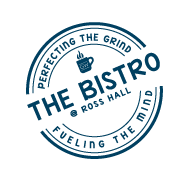 For additional details, please visit the Bistro page on the GW Dining portal. If you are interested in utilizing the bistro for any catering needs, please contact GW dining@email.gwu.edu or visit https://gwu.catertrax.com/for further information.